TCS High Speed Air Powered Hoist
Faster now comes standard.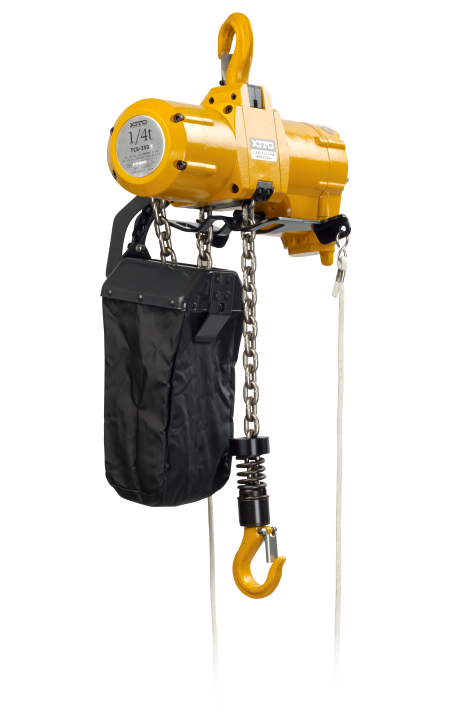 TCS High Speed Air Powered Hoist
Faster now comes standard.
Sometimes a job requires ultra-high lifting speeds and 100% duty ratings. With speeds up to 112 fpm at full capacity, the TCS offers blazing performance while still providing quiet operation and optimal fine feathering to control your load position. Fast, quiet, and precise—that's an unbeatable combination.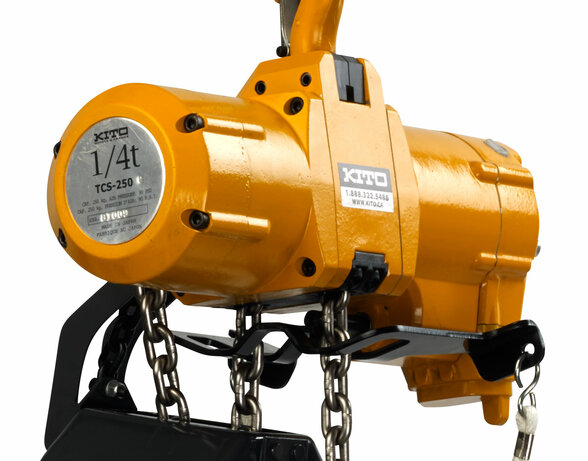 Compact, Lightweight Design
Easy to operate, transport, and store, the TCS air hoist is also engineered to be extremely compact and lightweight thanks to its durable cast aluminum body.
Extremely Fast Lifting
Time is money. For applications where speed is critical, the TCS air hoist gives you the ability to get things done faster and be more productive.
Adjustable Speeds
Increase your production capabilities with the TCS air hoist's adjustable lifting and lowering speeds.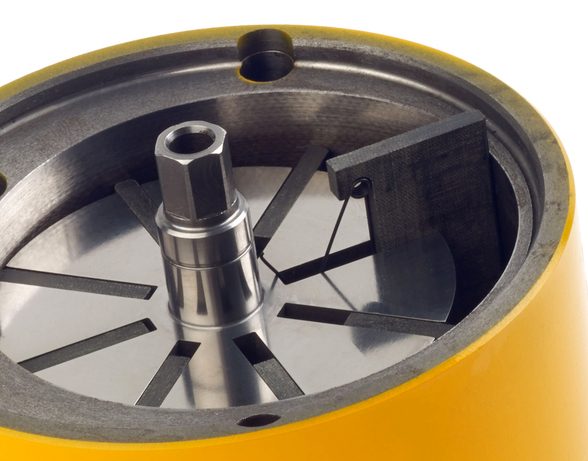 Very Fine Feathering Control
The spring-loaded, multi-vane motor design lets you precisely control, place and position a load exactly where you need it. Gradually control the lift with very fine feathering movements either up or down.
Unlimited Duty Cycle
The TCS air hoist is built for long and demanding shifts. With its unlimited duty cycle, you can continually operate the hoist without worrying about damage from too many starts per hour.
CAPACITY
STANDARDS
IP55, 80.5 dBA at 1 metre
Operating Conditions: -10 to +60° C
Oil filter and lubricator comes standard in the box
OPTIONS
Pendant or cord control to meet your needs
Chain bag to keep chain clean and out of the way
Custom lift lengths to suit your requirements
BODY
Lightweight aluminum body allows for easy transportation
Compact profile and low headroom
GEARS
LOAD CHAIN
Ultra-strong high performance nickel-plated load chain
Grade 80
HOOKS
Forged carbon steel opens gradually without fracturing under excessive loads. Bottom and top hooks swivel 360 degrees
Self-closing top and bottom hooks with heavy-duty hook latch
OPERATION
Pendant or cord control
Extremely fast lifting for applications where speed is critical
Lifting and lowering speeds can be independently adjusted
BRAKE
Heavy-duty, self-adjusting brake
MOTOR
Air powered, spring-loaded multi-vane motor
Full range variable speed control
Air Supply: 60 – 90 psi
Air Lubrication: Minimum 10 to 15 drops of oil per minute from a max distance of 15 feet
Maximum 5-micron air filter or finer required
Unlimited duty cycle
LIMITS
Standard upper and lower limits prevent overtravel in up or down direction
Choose product configuration below to view info:
| Capacity (tonne) | Model | C | a | b | d | e | f | g | h | i | j | k | L | m | n | o | p | q |
| --- | --- | --- | --- | --- | --- | --- | --- | --- | --- | --- | --- | --- | --- | --- | --- | --- | --- | --- |
| ¼ | TCS250P | 414 | 366 | 221 | 15 | 36 | 71 | 25 | 15 | 221 | 135 | 25 | 206 | 112 | 137 | 48 | 20 | 3048 |
| ½ | TCS500P | 414 | 366 | 221 | 15 | 36 | 71 | 25 | 15 | 221 | 135 | 25 | 206 | 112 | 137 | 48 | 20 | 3048 |
| 1 | TCS1000P2 | 457 | 366 | 160 | 30 | 41 | 107 | 28 | 30 | 221 | 160 | --- | 2286 | 112 | --- | 84 | 22 | 3048 |
* All measurements in millimeters (mm)
Capacity (tonne)
Model
Standard Lift (ft)
Max. Lift (ft)
Speeds (90 PSI - ft/min)
Headroom (in)
Load Chain Code
Load Chain Falls
Ship Weight (lbs)
Weight per Additional 5ft of Lift (lbs)
Chain
Pendant
Up
Down
with Load
w/o Load
with Load
w/o Load
¼
TCS250P
10
50
65
112
207
207
125
16.3
KER063
1
42
2.7
½
TCS500P
10
130
65
56
108
112
62
16.3
KER063
1
42
2.7
1
TCS1000P2
10
55
65
28
54
56
31
18
KER063
2
55
2.7
| Capacity (tonne) | Model | C | a | b | d | e | g | h | i | j |
| --- | --- | --- | --- | --- | --- | --- | --- | --- | --- | --- |
| ¼ | TCS250C | 414 | 366 | 221 | 160 | 193 | 25 | 135 | 84 | 25 |
| ½ | TCS500C | 414 | 366 | 221 | 160 | 193 | 25 | 135 | 84 | 25 |
| 1 | TCS1000C2 | 455 | 366 | 229 | 160 | 203 | 28 | 160 | 160 | 48 |
* All measurements in millimeters (mm)
Capacity (tonne)
Model
Standard Lift (ft)
Max. Lift (ft)
Speeds (90 PSI - ft/min)
Headroom (in)
Load Chain Falls
Ship Weight (lbs)
Weight per Additional 5ft of Lift (lbs)
Chain
Pendant
Up
Down
with Load
w/o Load
with Load
w/o Load
¼
TCS250C
10
50
---
112
207
207
125
16.3
1
42
2.7
½
TCS500C
10
130
---
56
108
112
62
16.3
1
42
2.7
1
TCS1000C2
10
55
---
28
54
56
31
18
2
55
2.7
Documents